I receive this email every day with snapshots of my incoming mail. I'm still waiting for a marketer to add a ride-along image, but I'm sure it is coming any day now. Here is a screenshot of what a ride-along image might look like.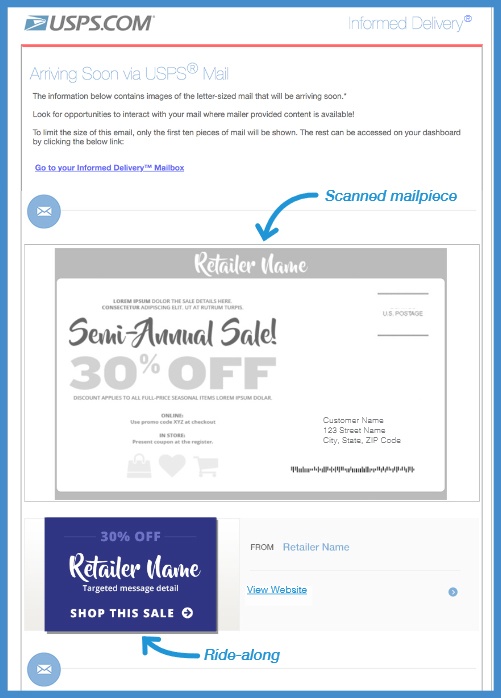 So, should you adapt your marketing efforts?
We would certainly say yes. Those looking to build brand loyalty and boost donations and sales conversions should consider the following recommendations.
Only one side is scanned. Delivery scans and shares only the fronts of envelopes. Special offers, big announcements, website links, and calls to action should be brought to the front where they can be seen in Informed Delivery previews.
Use the right format. USPS Informed Delivery currently only shares previews of letter sized mailings processed through USPS' automation equipment. If you are working on a large brochure, dont waste your time optimizing it for Informed Delivery,
Pay close attention to tones. Keep in mind that all Informed Delivery images are scanned in grayscale. Make sure your images are easily identified in Informed Delivery. Some colors just "pop" against eachother.
Raise their curiosity. Most users can identify a business mailing right away. By using a font that looks handwritten, you will peak their curiosity. With informed Delivery, most users viritually sort their mail before they even get to the mailbox. Get the upper hand and make your mail stand out.
USPS Informed Delivery will have an impact on direct mail marketing. Users can expect USPS to expand features and fine-tune the service in the coming years. Direct mail marketers should keep a close eye on these changes to stay ahead of the curve and outpace their competitors' conversion rates.
{{cta('1397d1ad-140a-474f-9d1e-f7b596fdd6d5')}}